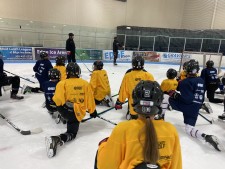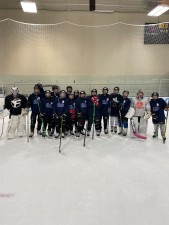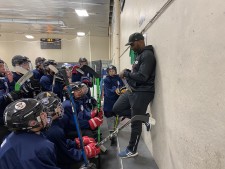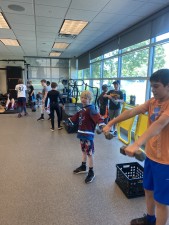 View Photos
RMHS Littleton CO Summer Hockey Camp
Edge Ice Arena
Littleton, Colorado
Program Overview
Dates: June 12-16 - Group #1: Squirt & Peewee Skills Drills & Small Area Games - Group #2: Bantams & Midget Body Contact & Checking - Location: Edge Ice Arena - $535 -
Program Description
Skills, Drills, & Small Games Camp - Squirt & Peewee - 8-12yrs (2011-2014 Birth Years)
We will work with the age groups within these camps who will be 8 to 12 years of age. As we all know, players under 12 must work on fundamentals and skills in a fun learning environment. The skating covered will work on edges, stride backward and forward, crossover, stopping, turning, quicker starts, and transitional skating. Puck skills like passing, stickhandling and overall better control of the puck will be covered in full detail. All of these skills will be taught in full detail. After the skills are improved, the staff will show how to use the skills in game situations within small area games and hockey-specific drills description
• 8-12-year-old players, All players must have 1-year playing experience
• Second-year peewees have to be cleared with the RMHS Staff to be eligible to move up to checking camp
• $535
• 8:00 am - 2:30 pm daily
• 3 hours on-ice per day
• 90 minutes off ice per day
• SportsBoard Player Assessment
• Campers must pack their lunches daily
• Schedules subject to change due to registration levels up to one week before the first day of camp
Checking/Body Contact Camps - Bantams & Midgets - 12-17yrs (2005-2010 Birth Years)
Checking Covered here will be the body check, hip check, stick check, hook check, sweep check, and poke check, as well as the optimal timing, positions, circumstances, and situations for each check, along with their optimal results. Also, the complete Heads Up Hockey curriculum will be covered in depth, including angling, body positioning, puck protection, and the proper ways to give and receive a body check. The staff will also work on daily power skating progressions specific to being stronger on your skates to give and receive body contact more effectively. Players will be paired up with a player of their age and ability all week to ensure a safe learning environment for all the athletes.
RMHS Checking Camp: Group #2
12-16-year-old players
$535
Second-year peewees have to be cleared with the RMHS Staff to be eligible to move up to checking camp
9:45am - 4:15pm daily
3 hours on-ice per day
90 minutes off ice per day
SportsBoard Player Assessment
Lunch Included
Schedules are subject to change due to registration levels up to one week before the first day of camp
Lodging Info -
The Holiday Inn Express Hotel & Suites Littleton is located across from the foothills of the majestic Rocky Mountains. We offer an indoor pool and whirlpool spa, fitness room and outdoor patio, free high-speed internet, and ample free parking. Our rooms have 37-inch HD TVs, fridge, microwave, and Keurig coffee makers. Our guests enjoy complimentary breakfast each morning and a 24-hour coffee/tea station. Nearby event centers & attractions include The Manor House, Willow Ridge Manor, Mountain View Ranch, Arrowhead Golf Club, Hudson Gardens, Ken Caryl Vista Wedgewood Event Center, The Fort, Evergreen Lake House, Red Rocks Country Club & Red Rocks Amphitheater, Bandimere Speedway, Chatfield Botanic Gardens, and Reservoir and many more. Business interests nearby include Lockheed Martin, Ken Caryl Office Park, Denver Technology Center, Johns Manville, Kaiser Permanente, Apria Healthcare, Colorado Children's Hospital, UCH Highlands Ranch Hospital, and Jefferson County Gvt. Building.
This hotel is a 5 min drive to the Edge Ice Arena and also has multiple restaurants and grocery stores within walking distance.
The special room rate is $129+tax for RMHS Customers - CLICK HERE to book your room today!
Program Detail
Camp Dates -
June 13-17, 2022
Camp Daily Schedule -
Squirt & Peewee 8-12yrs
7:15am - Check In (day one only)
8:00 - 9:30am On Ice
9:45 - 11:00am - Dryland
11:00am - 12:00pm - Lunch
12:00 - 12:30pm - Chalk Talk
1:00 - 2:30pm - On Ice
2:45pm - Student Pick Up
Bantam & Midgets - 12-17yrs
9:00am - Check In (day one only)
9:45am - 11:15am On Ice
11:30am - 12:30pm - Lunch
12:30 - 1:30pm - Dryland
1:30 - 2:15pm - Chalk Talk
2:45 - 4:15pm - On Ice
4:30pm - Student Pick Up
Joy Belfoure
Jun 30, 2021
(4.8)
Stellar camp as usual! Coach Smitty and the team always bring their A coaching game and my kid comes away from this camp with new skills and a renewed focus on hockey!
Facility Location
6623 S. Ward Street
Company
Home Offices - Rocky Mountain Hockey Schools
6623 S. Ward Street Littleton, CO 80127
Mailing Address -
RMHS P.O. Box 880 Kittredge, CO 80127
This program is on people's minds.
It has been viewed 1762 times in the past week
Contact Program Director