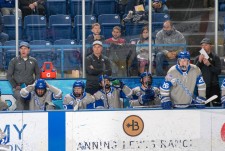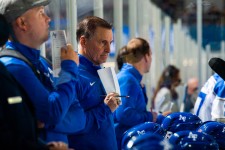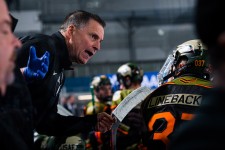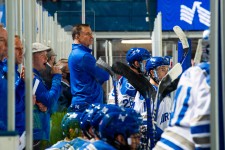 View Photos
Air Force Hockey Summer Showcase
Cadet Ice Arena
Air Force Academy, Colorado
Program Overview
The AF Summer Showcase is an event where players can test their skills in a competitive environment and be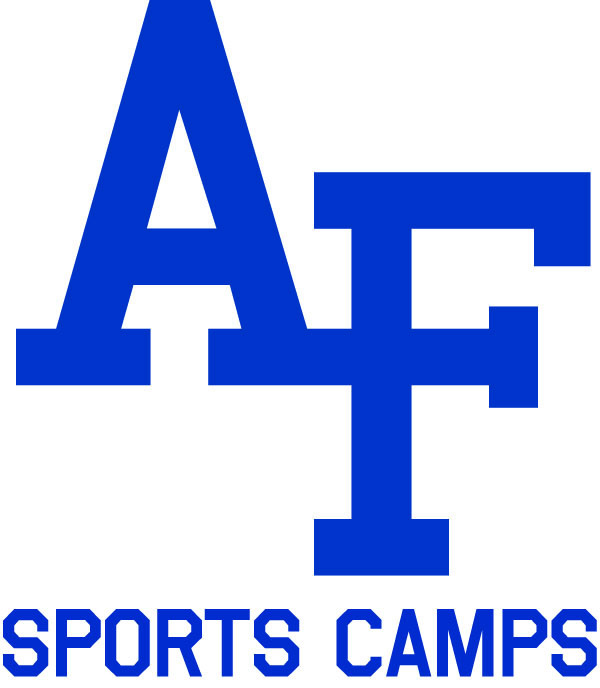 instructed and evaluated by advanced level coaches. Over the last 20 years, well over 100 former participants have gone on to play Junior A and NCAA hockey, over 100 former participants have gone on to play ACHA hockey, several are playing professionally and four have played games in the NHL! My present AF roster boasts 21 former participants alone. If you are a top level player, or someone who aspires to be a top level player, then the AF Hockey Summer Showcase is for you!

June 21-23, 2024 (weekend format) - Commuter Only
Registration Fee: $350
**Registration starts December 5, 2023**
Program Description
SCOUTING AND SEMINAR: The Showcase staff will include coaches and scouts from AAA, Junior "A", College, and USA Hockey. Informational Seminars will be conducted for parents and players on Saturday, June 22, at 9:30am and 11:15am. Both seminars are identical; two are provided to accommodate player schedules. The Showcase staff will provide information on the development system, various development tracks, College Club and NCAA hockey, as well as Q and A.
TEAM PLACEMENT: Team placement consideration will be given to players who car pool together. If car pooling, make sure to note travel partners on the registration form. Positions will be filled on a first come, first served basis. All players born between 2004 and 2008 are eligible to attend. Due to the limited number of goaltenders needed to fill rosters, only 2004, 2005, 2006, 2007 will be accepted. Please be advised the Showcase is fast paced and physically challenging and demanding on goalies, so experienced goalies are encouraged to attend.
AWARDS/STATISTICS: Individual statistics are tracked. Each game features Players of the Game. Showcase Teams and Showcase MVP's are selected in each birth year.
OFFICIALS/RULES/CONDUCT: USA Hockey rules and Certified USA Hockey officials are utilized. Angular and contact checking permitted, head on and/or collision checking is not. Cheap and/or excessive physical play putting others at risk will not be tolerated, nor will any type of unsportsmanlike conduct. The Director reserves the right to remove any player whose conduct on or off the ice is deemed inappropriate.
EQUIPMENT NEEDS: Players provide their own equipment and sticks. Players are required to supply all protective equipment recommended by USA Hockey. This includes a certified helmet with full facemask (no half shields), mouth guard, hockey pants, gloves, shoulder pads, elbow pads, shin pads, and hockey skates. Each player will be provided a showcase jersey to keep.
COSTS/PAYMENT: Your online registration payment of $350.00 will confirm your spot. You will also receive a confirmation email. There is a no-refund policy; however, refunds may be granted for medical injuries with a doctor's note, or special cases (less a $50.00 administration fee).
REGISTRATION/DEADLINES: The registration deadline is June 14, 2024. Registration will close earlier if rosters are filled (rosters filled last year prior to the deadline). The rosters and final game schedule will be emailed to each player prior to the start of the Showcase. The first games will be played on Friday, June 21. Players should check in 45-60 minutes prior to their first scheduled game to receive their Showcase Jersey, their locker room assignment, and any last minute instructions.
LODGING/HOTELS: There is no campus housing available for the AF Hockey Summer Showcase.
QUESTIONS: For hockey questions, contact Frank Serratore at frank.serratore.ctr@afacademy.af.edu or 719-333-3954. For online registration questions, contact AFASportsCamps@airforceathletics.org.

Program Detail
2024 AF HOCKEY - SUMMER SHOWCASE - (TENTATIVE SCHEDULE)
Friday, June 21
12:00-1:45pm White vs. Blue
2:00-3:45pm Red vs. Gold
4:00-5:45pm Purple vs. Gray
6:00-7:45pm Orange vs. Green
8:00-9:45pm Maroon vs. Black
Saturday, June 22
6:00-7:30am Blue vs. Red
7:45-9:15am Gold vs. Purple
*** 9:30-11:00am Informational Seminar #1 ***
9:30-11:00am Gray vs. Orange
*** 11:15am-12:45pm Informational Seminar #2 ***
11:15am-12:45pm Green vs. Maroon
1:00-2:30pm Black vs. White
2:45-4:15pm Blue vs. Gold
4:30-6:00pm Red vs. Purple
6:15-7:45pm Gray vs. Maroon
8:00-9:30pm Orange vs. Black
9:45-11:15pm Green vs. White
Sunday, June 23
9:30am-12:00pm All-Star Game #1
12:15-2:45pm All-Star Game #2
Facility Location
2169 Field House Drive
Company
All Air Force Hockey Camps are owned and operator by Air Force Academy Athletic Corporation:
Cadet Field House
2168 Field House Drive
USAFA, CO 80840