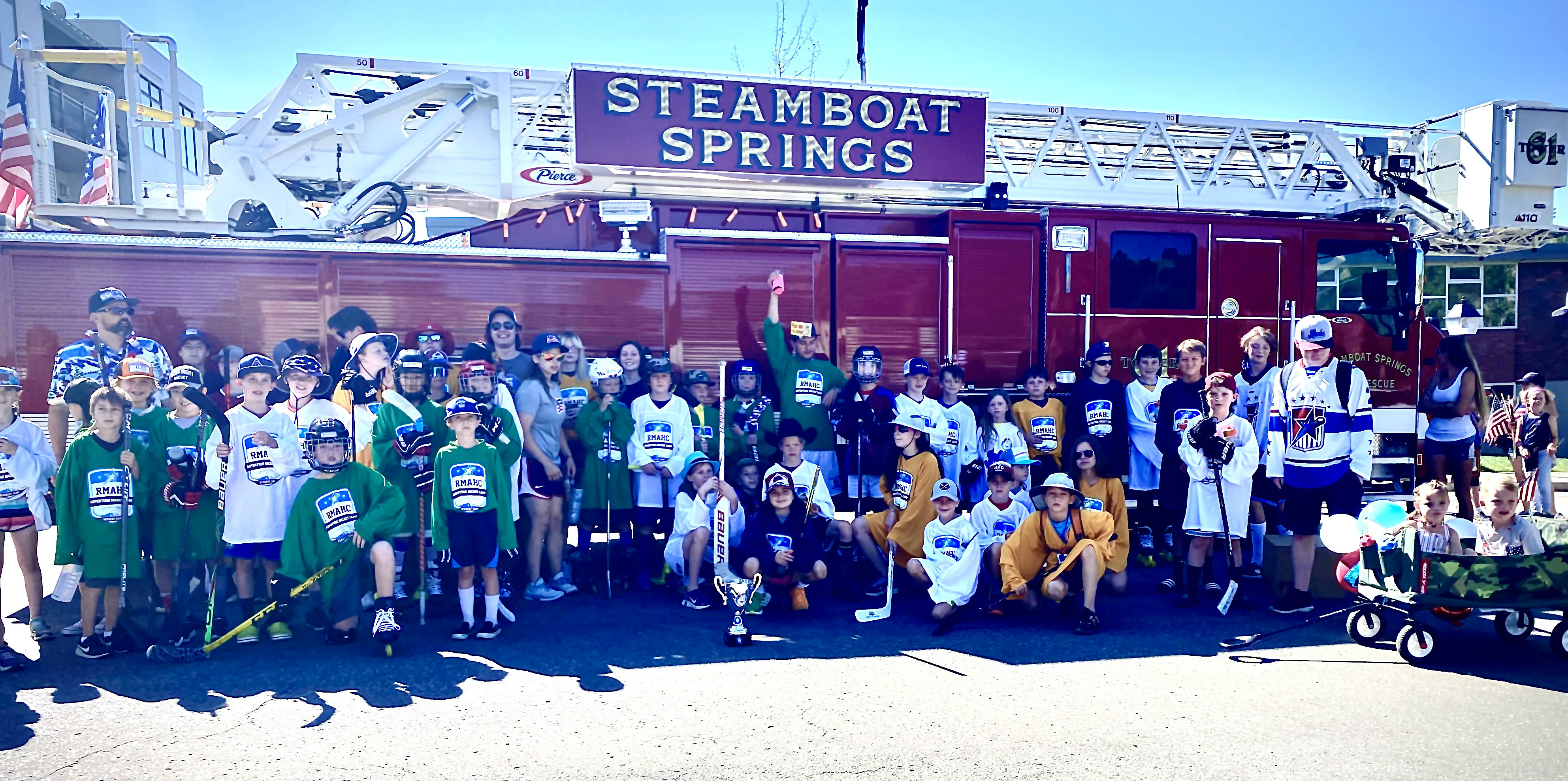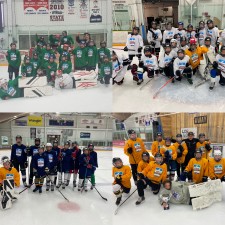 View Photos
Rocky Mountain Adventure Hockey camp
Howelsen Ice Arena
Steamboat Springs, Colorado
Program Overview
Rocky Mountain Adventure Hockey Camp
July 2-8 - Steamboat Springs, Colorado
Resident & Day Camper Options
Program Description
Residential high altitude, Adventure Hockey Camp in the world-class ski resort of Steamboat Springs, Colorado.
The Rocky Mountain Adventure Hockey Camp (RMAHC) will include the standard features of all RMHS Summer Skill Development Camps, along with incorporating the outdoor expertise of some of the world's most accomplished mountaineering athletes. These professionally trained mountaineering experts will work with your child and train them in the standard techniques and principles utilized by Mountain Rescue Teams across the country.
RMAHC will offer this exceptional outdoor adventure camp to players while continuing to provide the world-class on-ice instruction RMHS is renowned for. Ice time will not be forfeited and instructor quality will not be compromised. This camp will provide our customers with the best of both worlds: world-class hockey instruction with world-class Outdoor Education & Activities.
Hockey Camp Activities:
3.5 hours on ice daily60-minute daily dryland30-minute daily Chalk Talk60-minute Specialty Ice Session4 hours daily ODE activities
Steamboat Adventure Camp Activities:
Professional Kayaking ClassProfessional Rock Climbing ClassProfessionally Guided Mountain BikingHot Springs and Alpine Slide DayGuided Hiking TourMore Mountain Activities: Frisbee GolfParticipation in 4th of July Parade 4th of July Fireworks
Group #1: 10U & 12U 8-12yrs (2011-2014 Birth Years) - Group #2: Bantams & Midgets 13-18 yrs (2006-2010 Birth Years)
Three different participant packages - $535/$935/$1325 8:00 am - 8:00 pm daily (depending on participant package)3+ hours on-ice per day 90 minutes off ice per day SportsBoard Player Assessment
Program Detail
July 2-8, 2023
SAMPLE DAILY SCHEDULES: Resident & Day Campers
Group 1:
Breakfast - 7:00am
On-Ice - 8:00 - 9:15am
Dryland - 9:30 - 10:30am
On-Ice - 11:00am - 12:15pm
Chalk Talk - 12:30-1:00pm
Lunch - 12:15pm
ODE Activities - 1:00 - 5:00pm
Dinner - 5:15pm
Specialty Ice - 6:45 - 7:45pm
Group 2:
Dryland - 8:00 - 9:00am
On-Ice - 9:30 - 10:45am
Chalk Talk - 11:00 - 11:45am
Lunch - 11:45am
On-Ice - 12:30 - 1:45pm
ODE Activities - 2:15 - 6:15pm
Dinner - 6:00pm
Specialty Ice - 8:00 - 9:00am
Daily Schedule: Locals & Hockey only Options
Group 1:
On-Ice - 8:00 - 9:15am
Dryland - 9:30 - 10:30am
On-Ice - 11:00am - 12:15pm
Chalk Talk - 12:30-1:00pm
Lunch - 12:15pm - Must Provide own Lunch
Specialty Ice - 6:45 - 7:45pm
Group 2:
Dryland - 8:00 - 9:00am
On-Ice - 9:30 - 10:45am
Chalk Talk - 11:00 - 11:45am
Lunch - 11:45am - Must provide own Lunch
On-Ice - 12:30 - 1:45pm
Specialty Ice - 8:00 - 9:00am
Check-In Times: Resident Campers Times -1:00-3:00pm - Day Campers Times -1:00-3:00pm
Lodging Info -

Car Rental Options:
Please consider renting from locals as you come to Steamboat this summer!
Sady & Nick rent them out at a much more reasonable rate than other car rentals in Steamboat Springs. Each car is 4wd and offers a 7-seat capacity, perfect for family & hockey gear.
If you plan to book a longer stay, reach out to them for an extended RMAHC discount!
Pickup & drop off at the Hayden Airport or contact us for the desired location drop off when you arrive in Steamboat.
Thanks again, and please get in touch with Coach Sady if you have any questions!
Shannon Gutwein
Jul 10, 2021
(4.9)
This camp was fantastic! The staff were skilled, knowledgeable, hard working, and flexible with requests. The coaching was a perfect mixture of building skills while having fun and encouraging teamwork. There was ample ice time with a mix of dryland and learning all things hockey. We came from Jackson Hole, WY to enjoy some of the adventure part of the camp which was really fun for the kids. My shy hockey kid was nervous on day one but left with a whole new crew of hockey friends from all over the west. The Wolf Cup games added some extra excitement and team cohesion to the week! We will definitely be back.
Stephanie Carolus
Jul 15, 2021
(4.6)
My daughter joined this camp for the first time this year and LOVED EVERY MOMENT OF IT. I watched her push out of her shell and it was so nice to see the adventure side plus the hockey side. The staff seemed great and she really enjoyed all of them.
Kate Gregory
Jul 16, 2021
(4.9)
This camp was AMAZING! My daughter who is a first year Bantam absolutely loved every moment of camp. Her wrist shots improved, her passing improved and her confidence in herself grew! Between the on ice time and the adventure activities she was so proud of her strength and endurance throughout the week. Hearing about the very difficult mountain biking and how she almost quit twice but she persevered to finish the climb with her camp group was inspiring. The coaches at this camp were so wonderful and it was evident that they were invested in the successful growth of every player at camp. We will be finding a way to attend in future even though we are moving from Colorado this summer. Thank you so much RMHS coaching staff for making this a camp experience my daughter will remember and talk about for years!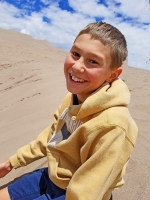 Jonah Sabourin
Jul 12, 2022
(4.8)
Fantastic!!! Our son attended this years Adventure Hockey Camp in Steamboat Springs. It was more than we could have asked for. Lots of Ice Time for evaluation and skill development! Lots of awesome Adventures for self-esteem and confidence building into a young persons life! We were very happy to see the personal attention given to each player. RMAHC is an excellent program with excellent trainers (on and off the ice). Their commitment to serve the athlete and their families was evident. We are looking forward to next year (whoop whoop)!!!
Facility Location
285 Howelsen Parkway
Company
Home Offices - Rocky Mountain Hockey Schools
6623 S. Ward Street Littleton, CO 80127
Mailing Address -
RMHS P.O. Box 880 Kittredge, CO 80127
This program is on people's minds.
It has been viewed 971 times in the past week
Contact Program Director