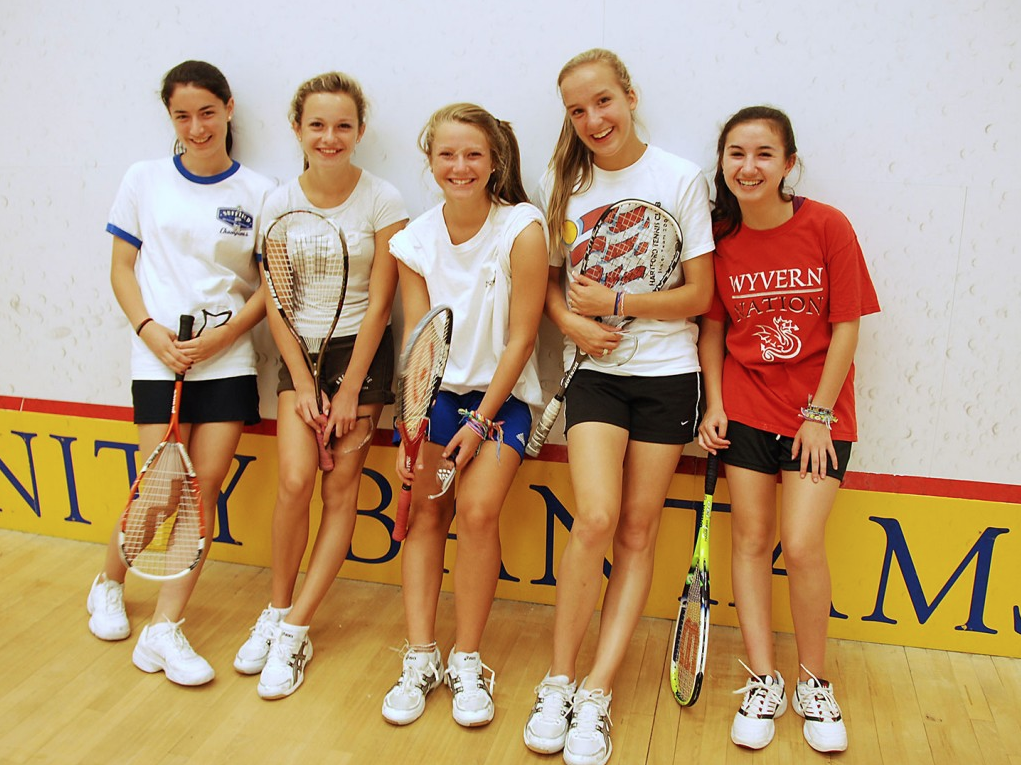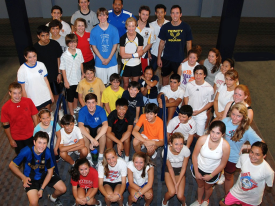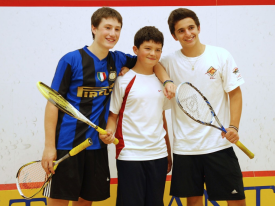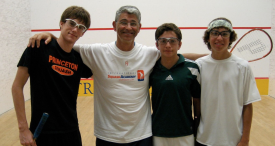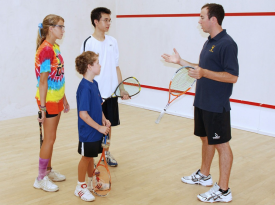 View Photos
International Squash Academy - Lawrenceville School
Lawrenceville School
Lawrenceville, New Jersey
Program Overview
Campers will receive: Authentic International Squash Academy T-Shirt Water Bottle Personal Evaluation Games Daily Raffles for an assortment of Prizes
Program Description
Niki Clement enters her ninth season as head men's and women's varsity squash coach in 2018-19. In her time at Haverford, the Fords have captured two men's division titles and two women's division titles. In 2018-19, both the men's and women's squads made their mark on the national landscape within the College Squash Association (CSA). The men's squad reached the 10-win plateau for the third time in the last four seasons and took the No. 28 ranking at year's end, the highest for Haverford since the 2004-05 campaign. Peter Dudley '18 surpassed Tim Saint '02 to become Haverford's all-time career wins leader with 46 victories. The women's team finished with the No. 30 overall ranking, its highest year-end rank since the 2008-09 campaign, while also finishing with the most wins in a single season since the 2014-15 season. Isabelle Gotuaco '18 tied Rachel Kaplan '99 for Haverford's all-time career wins record with 38 victories. The 2016-17 campaign was a standout one for the men's program. The team had a historic season as the squad finished with a program-record 15 victories and took home the Chaffee Cup championship a No. 33 national ranking by virtue of the victory. The Chaffee Cup win is the fourth overall CSA division title for the Fords, and the first since a Serues Cup (F Division) victory in 2011-12. Additionally, Ryan Dukarm and Yash Singh each totaled 15 wins to eclipse Haverford's individual single-season wins' records. In 2015-16, the Haverford College women's squash team and head coach Niki Clement were recognized as the winners of the Clarence C. Chaffee Award for the 2015-16 season. The Chaffee Award is given annually to a women's squash coach whose team has demonstrated the qualities of sportsmanship, teamwork, character, and improvement. The award is voted on by teams and presented at the National Team Championship. During the 2013 season, the men's team was presented with the 2013 Barnaby Award, one of three distinguished national awards voted on by College Squash Association coaches and teams, which recognized the varsity team that displayed the most improvement throughout the season. Clement, who graduated from Radnor High School, has played professionally since 2009 and ranked 78th in the world in the February 2012 rankings released by the Women's International Squash Players Association (WISPA). Her collegiate career foreshadowed the success she has achieved on the pro tour. A 2006 graduate of Bowdoin College, Clement was a two-time All-America honoree (2003, 2004) and four-time most valuable player for the Polar Bears, who finished ninth in the country in 2003 and never lower than 13th during Clement's four years as the squad's number-one player. A team captain in her final two years at the school, she received the Lucy L. Shulman Trophy for most outstanding female athlete in 2006 after earning the most outstanding female freshman athlete award in 2003. Clement's career wins total is the most in Bowdoin program history. Clement's coaching career began while she was still an undergraduate at Bowdoin. She received her level-I coaching certification in 2004 then coached at several squash camps over the next few years. Following her graduation and an internship with the United States Squash Racquets Association (then headquartered in Philadelphia) Clement moved to California where she began work on her master's degree in sport management at the University of San Francisco. She joined the staff at the Decathlon Club where she worked as a squash professional and also gained collegiate coaching experience working with Mark Talbott's Stanford University squad during the 2006-07 season. Upon completion of her master's degree in 2009 Clement accepted a position as a squash professional with The Squash Alley in Stamford, Conn., where she also serves as a regional representative for the women's committee of U.S. Squash, and began playing on the pro tour. The Clement family is not new to the Haverford campus as Coach Clement's grandfather, Frederick T.J. Clement '45, and great-grandfather, Dewitt C. Clement '17, are both Haverford College alums. Dewitt excelled on the track for the Scarlet and Black setting the two-mile school record, 10 minutes, 15.8 seconds, in 1916.
Program Detail
DAILY SCHEDULE:
7:00 Wake-up
7:45 Breakfast
8:45 Commuters Arrive
9:00 Stretching and warm-up
9:15 First Squash Session – Individual skill work
11:15 Coaching Demos
11:30 Tournament Training
12:00 Lunch
2:00 Second Squash Session – Strategy
3:00 Squash Matches
4:30 Extra help / Off-Court Activities
5:30 Dinner
6:30 Off Court Offerings (Guest Speakers, Film Analysis, Sport Specific Conditioning)
8:30 Commuter Dismissal
9:30 Dorm Games and Socializing
10:30 Lights Out
Check in: Overnight Campers check in between 1:00-2:00pm on the first day. Day & Extended Day & Day Campers check in at 2:00pm on the first day.
Extended Day Camper Pick-up: Extended Day Campers are to be picked up each day at 8:30pm at the squash courts.
Day Camper Pick-up: Day Campers are to be picked up each day at 5:00pm at the squash courts.
Check Out: Parents are invited to attend the final matches that begin at 9:00am on the final day. Check-out for ALL CAMPERS will take place at 12:00pm at the squash courts.
Below is a suggested list of items to bring to camp. We suggest that campers do not bring expensive personal items such as cameras, iPods/iPads, etc. Cell phones are allowed in the dorms and dining areas, but not on the courts during training sessions. Please label every article you bring to camp. All items will be the responsibility of the camper. International Squash Academy and its staff are not responsible for lost, stolen or forgotten items.
Health Form
Squash Racquet
Goggles
Squash Clothes
Non-Marking Squash Shoes
Comfortable Socks
Sweat Bands
Off-Field Clothes (Athletic Socks, T-Shirts, Shorts, Sweatshirts, etc)
Athletic Sneakers
Linens (Twin XL)
Blanket/Sleeping Bag
Pillow
Toiletries
Shower Towel
Alarm Clock
Portable Fan
ABILITY GROUPS
Players are grouped first by age and then by ability. The first session is an assessment session – we will update groups after the first day
ATHLETIC TRAINER
Trainers are on site to aid in illness, injury prevention and first aid.
HEALTH FORMS
All campers are required to have a completed health form in order to participate at camp. You can either fill out our health form or use the doctors form and use our form as a cover page. Please fill out contact information and parent signature.
Click here to download the HEALTH FORM
WEATHER PLAN
We utilize inclement weather opportunities to focus on agility training, video analysis, individual meetings.
TRAVEL
The nearest airport is Bradley International Airport in Hartford, CT. You are responsible for getting yourself to and from campus, International Squash Academy does not provide transportation.
Facility Location
2500 Main St
Company
eCamps Sports Network Phone: 1-800-944-7112 Email: support@ecamps.com Web: SportsCamp.com
Registration Alert
Online registration for the International Squash Academy is not available at this time through the CampVine platform.
Please visit the International Squash Academy website for full online registration capabilities at:
Contact Program Director